DOLE- AKAP Assistance for OFWs
Updated by Ruby
What is the DOLE AKAP?
The DOLE Abot-Kamayang Pagtulong (AKAP) is a program of Philippines' Department of Labor and Employment that seeks to provide one-time financial assistance of US$200 or Php 10,000 the equivalent in the host country - Philippines.
The following countries with satellite offices of Philippines Overseas Labor (POLO) will be prioritized for the disbursement of funds:
Asia & Pacific: Australia, Brunei,

Hong Kong,

Japan, Korea, Macau,

Singapore,

Taiwan, Malaysia, New Zealand
Europe & America: Canada, Cyprus, Italy, Germany, Greece, Spain, Switzerland, United Kingdom, Unites States of America
Middle East & Africa: Bahrain, Israel, Jordan,

Kingdom of Saudi Arabia,

Kuwait, Lebanon, Libya, Oman, Qatar, UAE
The application for the cash assistance can be conveniently done anywhere an OFW is because it is processed by filling out this online form at http://dole-akap.owwa.gov.ph/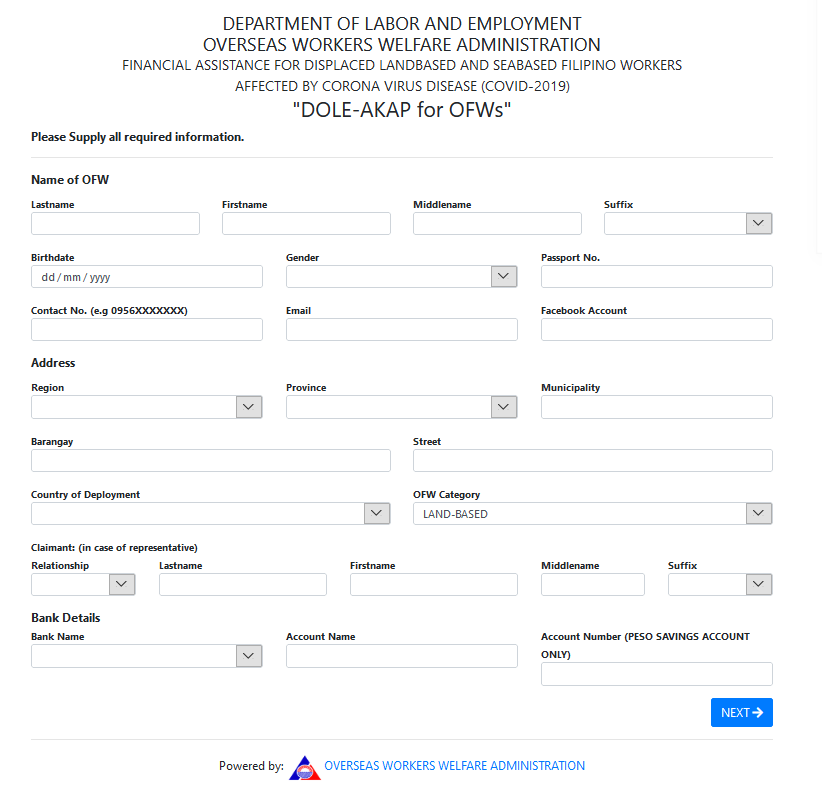 Who are Eligible to Apply for DOLE-AKAP?
Eligibility Requirements:
Overseas Filipino Workers (OFWs) who experienced job displacement due to the receiving country's imposition of lockdown or community quarantine or having been infected by the Disease;
Still located at overseas jobsites or back in the Philippines as Balik-Manggagawa or repatriated to the Philippines.
Did not receive any kind of financial support/assistance from the employers or receiving countries of work.
How can I apply for Cash assistance?
For OFWs On-Site - located overseas
Completed online application form found on the DOLE-AKAP site at: http://dole-akap.owwa.gov.ph/
A copy of passport or travel document
Proof of overseas employment
Valid verified overseas employment
Residence IDs
Overseas employment certificate (OEC)
Visa or re-entry visa
Permit to stay in the host country
Proof to show loss of employment because of COVID-19
For OFWs who become undocumented because of circumstances beyond their control, show proof attesting to the fact such as:
Case reference Number
Case endorsement authenticated by POLO
For Repatriated or Balik-Manggawa OFWS - already in the Philippines
First, click on this link:

https://dole-akap.owwa.gov.ph/

and provide all required information then click "Next" button.
Upload the following requirements on each specified button:
Copy of Passport or Travel Document; 
Copy of flight ticket or boarding pass evidencing return to the Philippines or arrival stamp/sticker attached in the Passport;
Proof of overseas employment i.e. valid verified overseas employment, OEC, residence I.D.s, visa/re-entry visa, among others or permit to stay in the receiving country;
Proof of loss of employment on account of COVID19 or proof that the host country/ies are included in the list of those heavily affected by the COVID-19 (i.e. notice of termination of employment or closure of the company issued by the Foreign Recruitment Agency or principal/employer, incident report on the termination of employment submitted by the employer to the POLO concerned, Philippine Embassy/Consulate/POLO/OWWA certification/referral of displacement due to COVID-19, among others.)
Upon uploading necessary requirements, click "SUBMIT" button where a confirmation prompt will appear. In addition, a system-generated confirmation receipt will be sent to your e-mail.
For Qualified Undocumented Worker—proof that he/she and the employer have undertaken the necessary documentation to regularize her stay in the host country such as copies of employment contract, payslip, work visa, or other proof of employment.
OWWA Regional office will conduct validation/evaluation of applications.
Once approved, documents will be forwarded to DOLE regional office for funding through Money Transfer or PESO Net within 5 working days
How long before I receive the Cash Assistance?
Once your application is validated and approved, you can expect to receive the cash assistance within 5 working days via PESO Net or Money Transfer.
What if I do not receive an update after 5 days?
Delays can be expected due to the volume of applications the system and the concerned government offices are receiving. Check your email from time to time and make sure you followed the instructions for the application process to avoid any problems.
If you did not receive any update regarding your applications, you can reach out to the nearest POLO or OWWA office for assistance.

In case you haven't found the answer you were looking for, feel free to talk to us by clicking the Contact button above.