What makes a great ad?
It's your time to shine. Make your ad eye-catching but genuine with all information true and correct. See examples below on how to put a good title for your ad and a great description that would make employers think better to contact or hire you.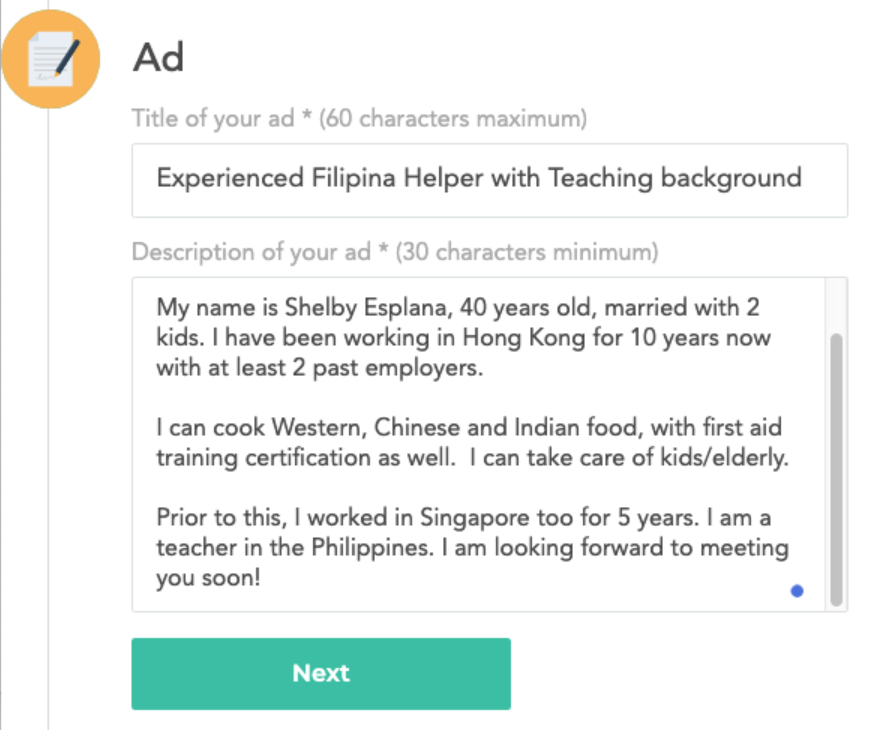 Title of your Ad - You can say you are experienced, newbie, you can state your nationality, maybe mention good traits, any extra or special backgrounds like nursing graduate, caregiver skills or teaching background or mention how many years of experience you have. See examples below.
Experienced Filipina Helper with a Teaching background
A Patient and kind Filipina Helper with Caregiving skills
A Nursing graduate available to work as a Helper
A loving Filipina helper with 10 years experience
A nice Filipina helper with 10 years experience available ASAP
A Filipina helper who has just finished a contract, ready for a new one
A Filipina nanny who can handle kids and elderly
Write a good description of your working experience, your traits, skills, education background and many more that will help employers know you better.

In case you haven't found the answer you were looking for, feel free to contact us at contact@helperchoice.com.
---
---